2024 Lotus Emeya: This Is It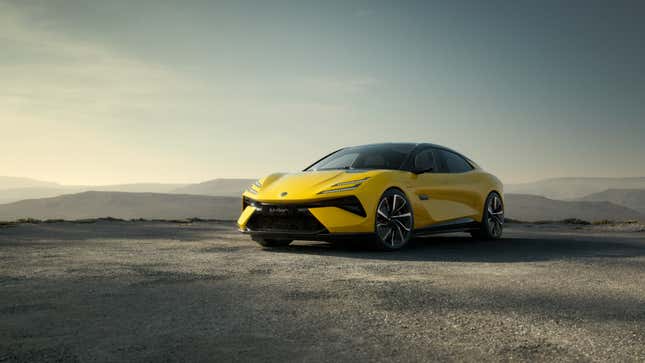 Electric cars have a problem, one that's unrelated to charging or range or the environment: They're just too dang heavy. For Lotus, traditional purveyor of lightweight, nimble track cars, this presents a real struggle. How do you stick to "simplify and add lightness" in the electric age?
As it turns out, you don't. You pivot to "luxury performance," expand your lineup to include a hypercar and a crossover, and drown out the cries of the fifteen Elise owners who care with all that sweet, sweet lifestyle-buyer cash. Then, to reinforce that performance pedigree, you cram 905 horsepower into a four-door grand tourer, and call it the Emeya. Simplicity and lightness are dead, long live speed.
For that famed Lotus handling, the Emeya features computer controlled air ride suspension, which is pressed to the ground by active aero in the car's body. Lotus hopes that this suspension, paired with the dual-motor AWD drivetrain and "race-grade braking system," will make the Emeya a true driver's car.