Fan favorite Formula 1 driver Daniel Ricciardo made headlines just two races ago when it was announced he'd be replacing rookie Nyck de Vries at AlphaTauri halfway through the season. Now, the Australian is once again leaving the F1 paddock, this time thanks to a broken wrist sustained in a practice crash ahead of the Dutch Grand Prix. He'll be replaced by Liam Lawson, a Red Bull Junior driver.
After being examined in the circuit's media center, Ricciardo was taken to a nearby hospital for X-rays, which determined that he had broken his left wrist. Helmut Marko, a Red Bull advisor, confirmed that Ricciardo will be out for the Dutch Grand Prix.
Photo: Lars Baron (Getty Images)
How Actor Brian Muller Became an F1 Podcaster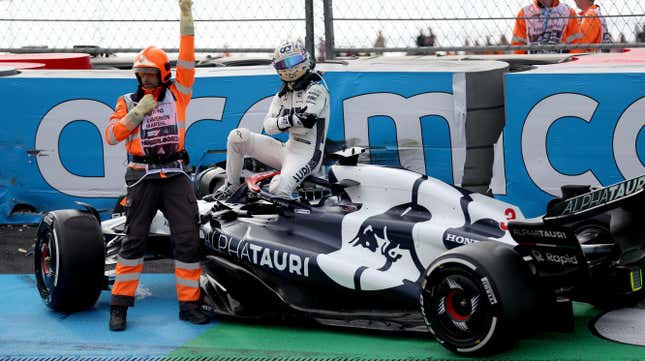 Lawson will get behind the wheel of Ricciardo's AlphaTauri beginning with tomorrow morning's Free Practice 3 session.
It's a tough break for Ricciardo; the Australian was canned by McLaren at the end of the 2022 season, and he failed to line up another contract before the beginning of 2023. It was only after de Vries got the chop that Ricciardo was invited back into the F1 fold, a mere two races ago.
While AlphaTauri had the opportunity to do the funniest thing in the world (i.e. bring Nyck de Vries back into the fold for what would have been the Dutch driver's home race), it instead opted for the more sensible route: bringing in Red Bull Junior Liam Lawson, who serves as the reserve for both Red Bull affiliated F1 teams.