To wrap up my coverage from the 2023 R's Meeting at Fuji Speedway, I've got a huge gallery post for you. There's plenty to see, so let's get stuck straight in…
Since its inception back in 2010, R's Meeting has managed to pack a whole lot into what is still a relatively small event. It's not about the size though; it's about the quality. And quite simply, R's Meeting brings out the very best GT-Rs in Japan.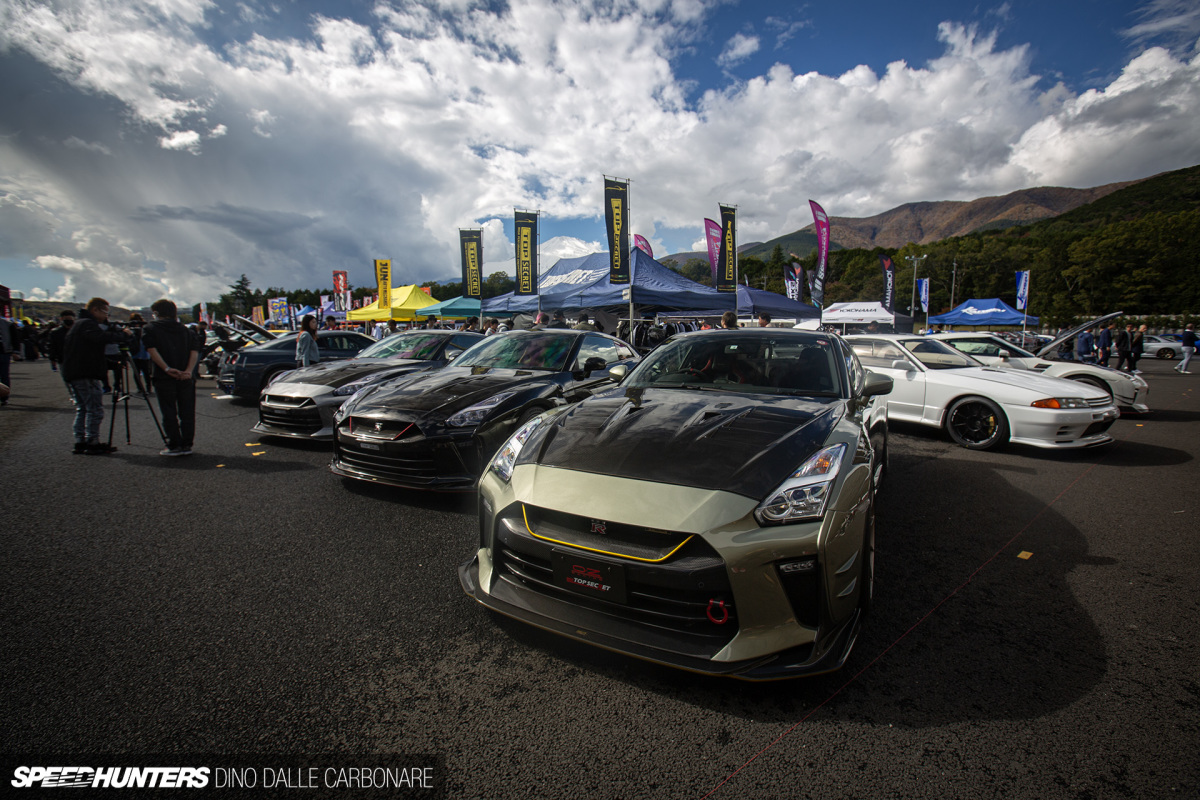 If you're a diehard GT-R fan, it's an event that you need to spend the full day at. A few hours just doesn't cut it.
As always, I took my time looking over every car on display, plus all the GT-R-related parts, wheels and other components that caught my eye. Where to begin, though? At the Nissan booth, of course.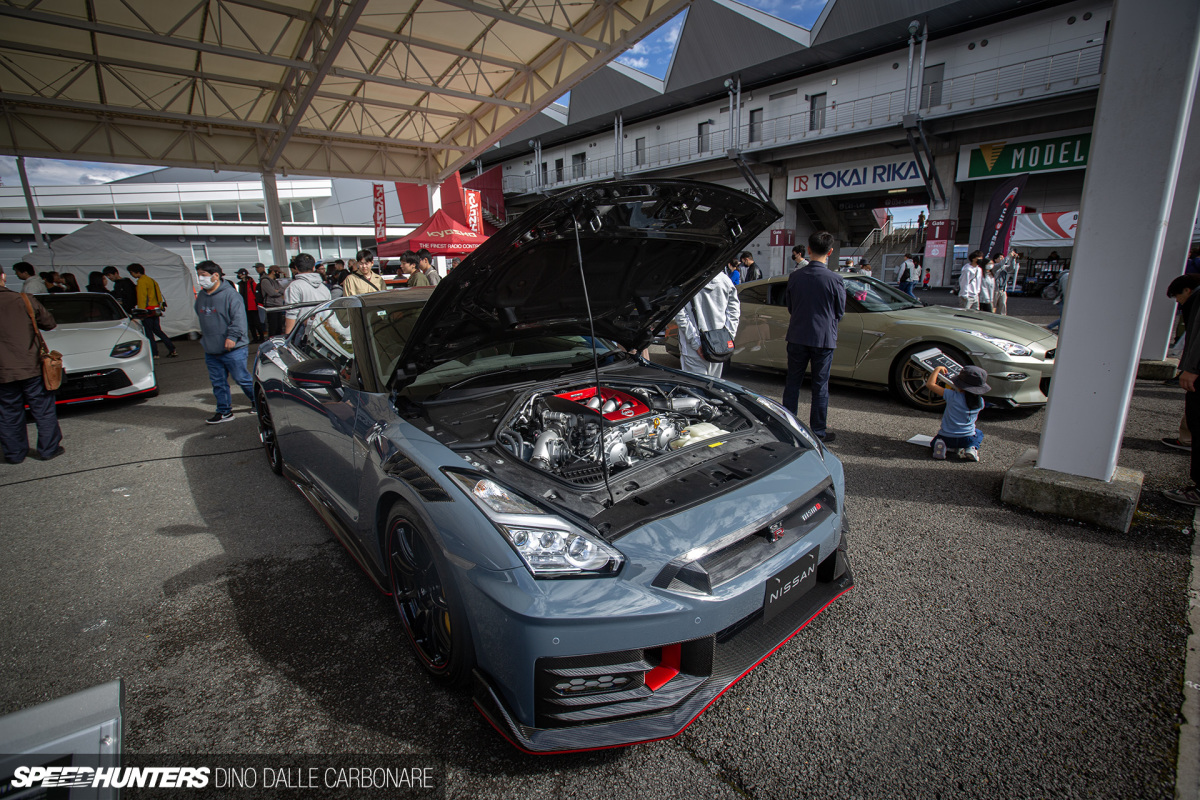 The automaker behind the GT-R brought out a small selection of cars, including factory-tuned GT-Rs, plus those special Nismo editions that are so sought after. That included the pinnacle of the lineup – the current Nismo GT-R, which these days retails for Lamborghini and Ferrari money.
It's still hard to believe the R35 has been in production for 16 years, and there's still no clear direction about what's coming next. Will it be sold until it's 20 years old? Is there a replacement on the way? And if so, will it be hybrid or electric? No one but Nissan knows the answers to these questions.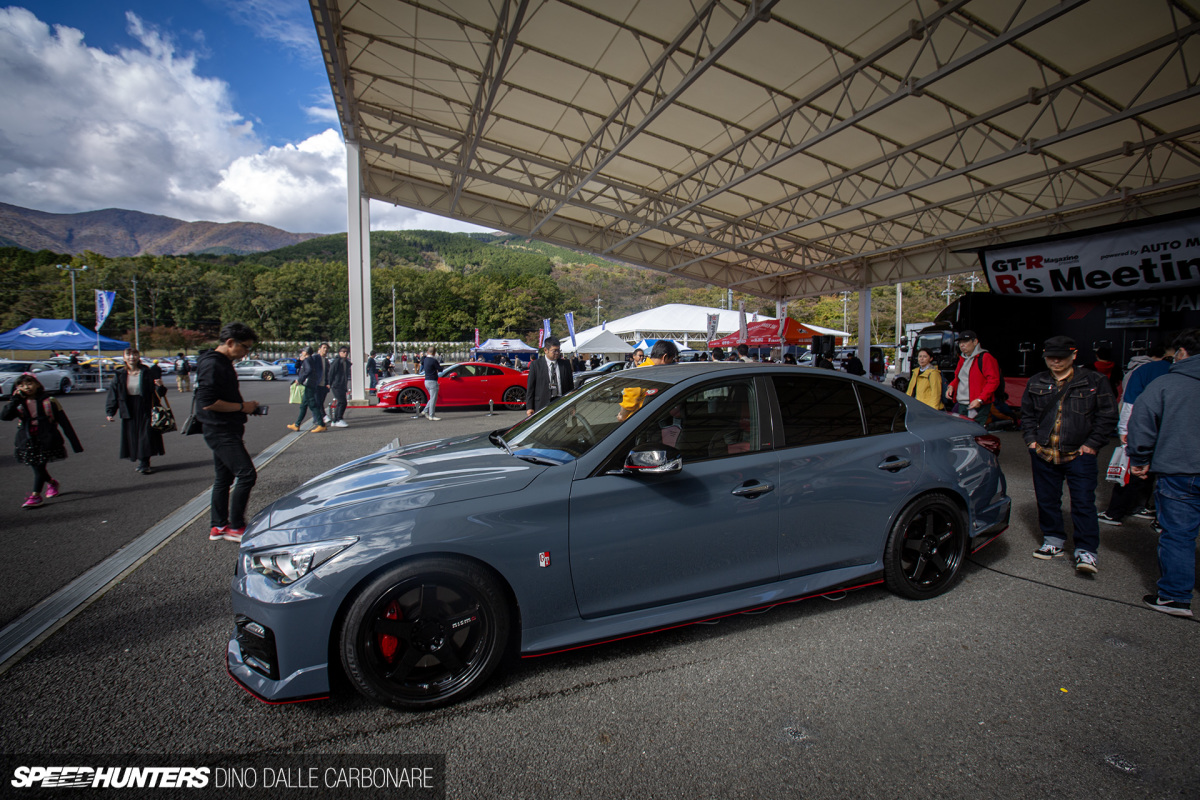 Next to the Nismo GT-R was the Nissan Skyline Nismo, a lightly modified Skyline 400R (up 20hp to about 420hp). This car runs the Z's VR30DETT engine mated to an automatic transmission, and is guaranteed to be a whole lot of fun. I know this because I drove the regular car three years ago, and that was impressive in its own right. The Nismo version sports a more aggressive aero treatment with the typical Nismo red highlight line, Nismo wheels, an exhaust, reworked ECU and Recaro seats. I'll definitely need to borrow this model for a drive when it becomes available.
While we're on the subject of the VR30, I spotted this intruder at the rear of the Nissan display. It might be the R's Meeting, but Nissan wasn't going to let the recently-released Nismo Z miss out. This is another car I need to drive. And yes, it's only available with a traditional manual transmission, even here in Japan.
Under the same canopy, GT-R Magazine, which organizes the R's Meeting, had HKS Technical Factory bring out the Zero-R.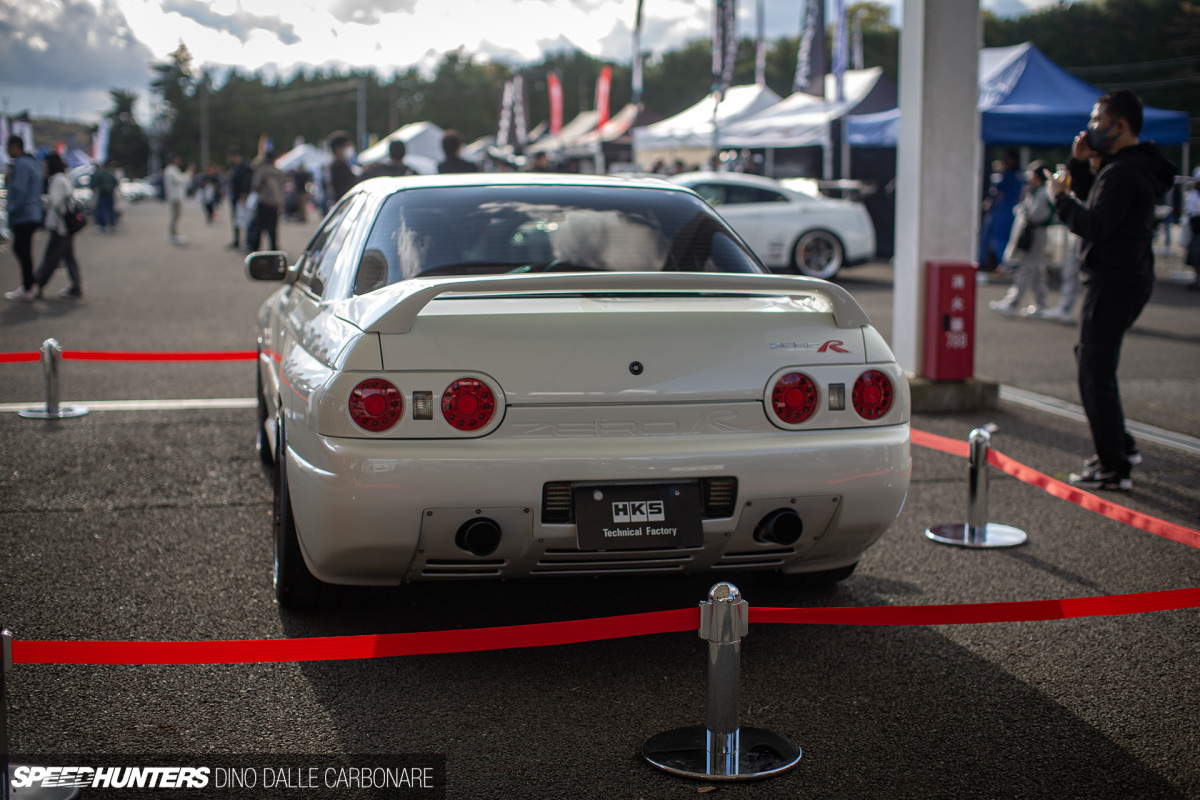 It's always a treat to see what in essence was one of the very first 'complete tuned' GT-Rs. I guess people didn't really grasp the concept back in the early '90s, as the car didn't do well. Truth be told, it was probably a bit ahead of its time. Now, it seems like every GT-R specialist shop out there is making their own complete cars, and customers are lining up for them.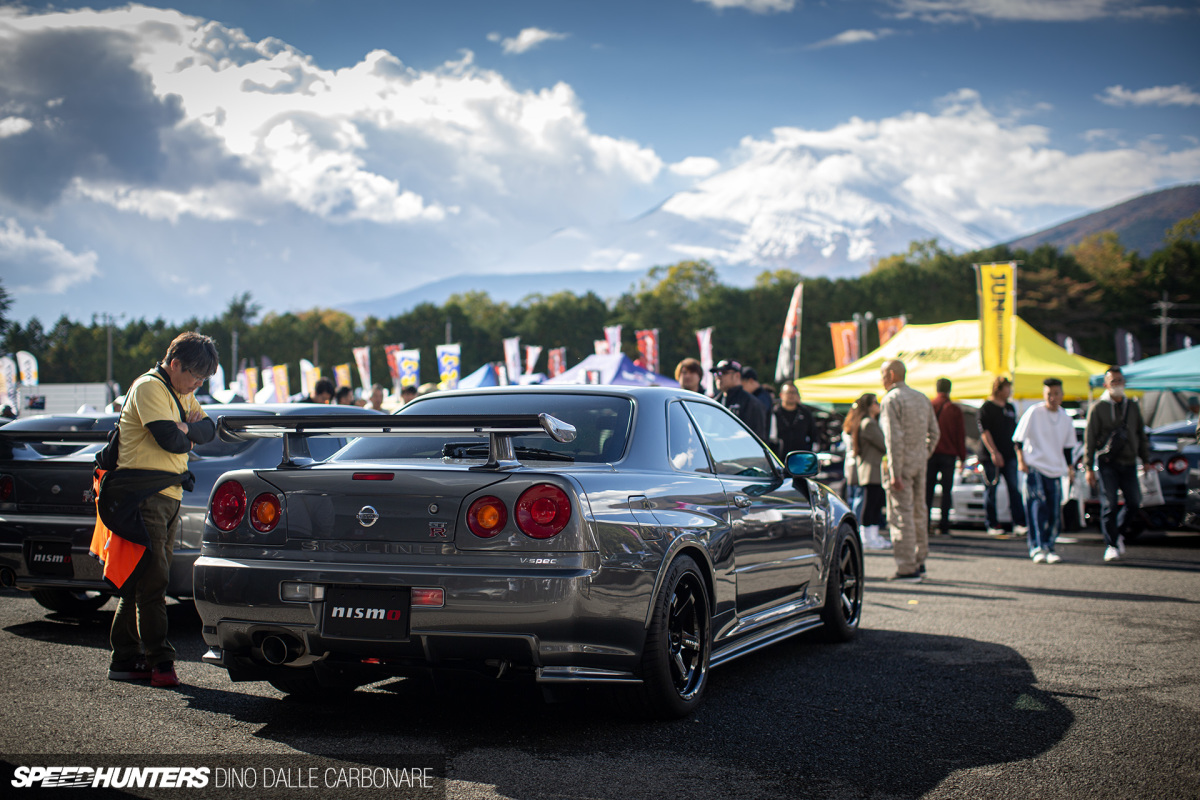 Nismo Omori Factory had their usual lineup of Clubman Race Spec RB-powered cars, a conversion that despite costing close to the equivalent of $500,000 seems to have generated a three to four-year waiting list, helping fuel the demand for anything with a Nismo logo on it. I'd love to hear everyone's opinion on how Nismo are actually handling the whole restoration/upgrade program. Is telling customers to wait years for ordered parts, engines and complete CRS cars the right way to do things?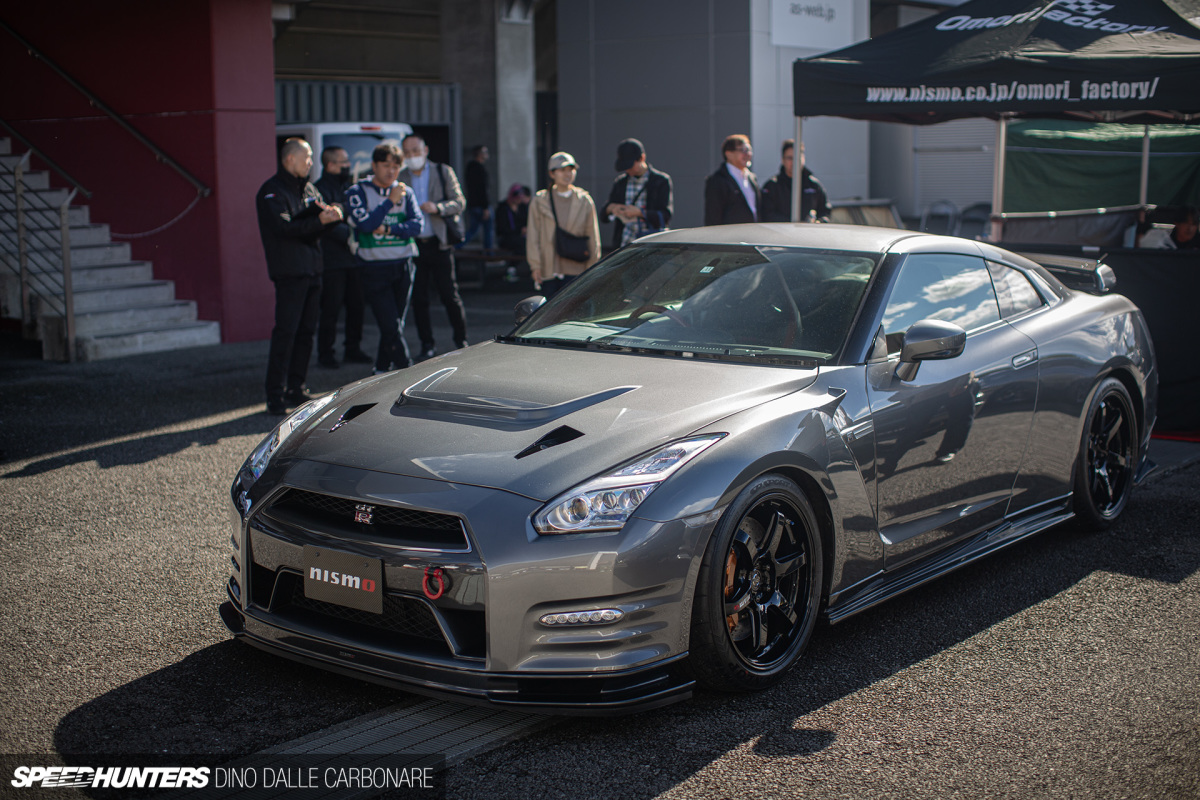 While 99% of attention goes to their RB26-powered Skyline GT-Rs, I can really appreciate the work Nismo are doing on the R35 GT-R. I love the Nismo carbon fiber hood, which gives off real Super GT vibes with those angled NACA-style ducts.
Over at the Yokohama Wheels booth it was cool seeing Advan Oni 2s fitted to an R35. The new version of this model is offered in 20-inch fitments, so perfect for R35s, Supras and big Toyota vans like the Alphard and Vellfire.
R's Meeting definitely has just as many R35s to admire as Skyline GT-Rs, but I always gravitate back to the RB cars.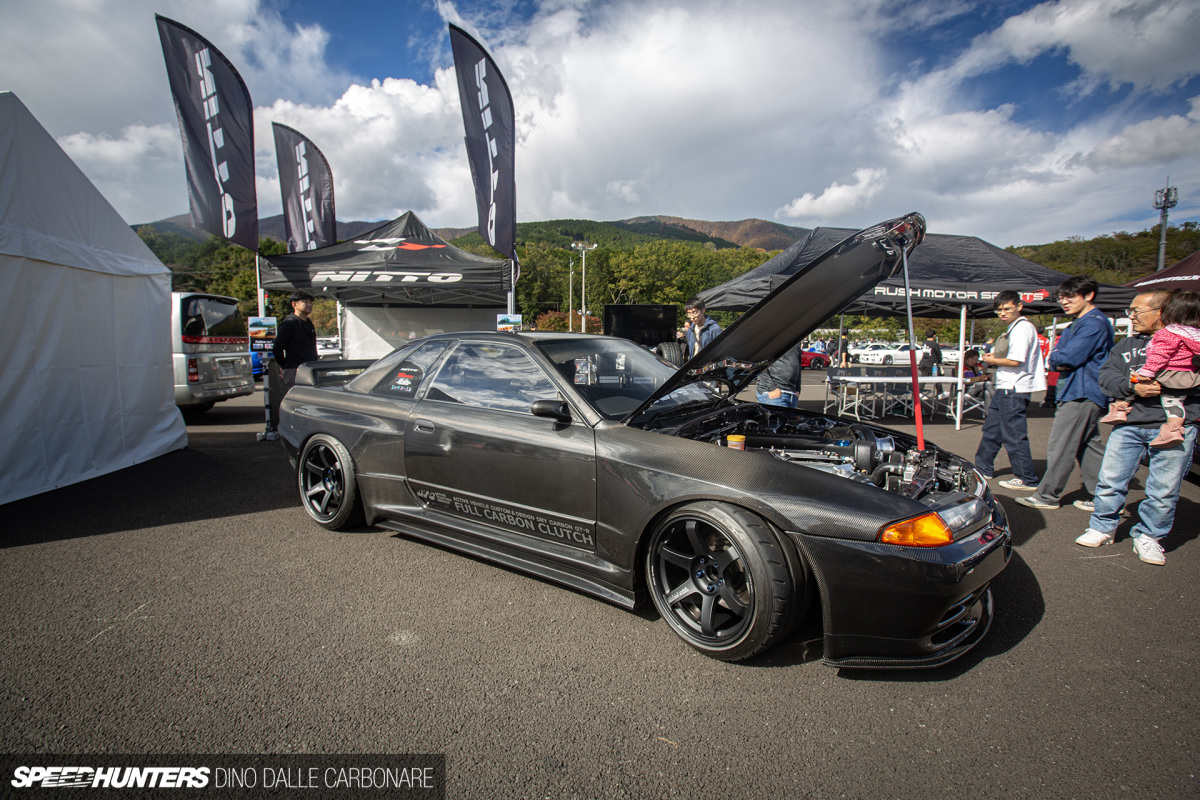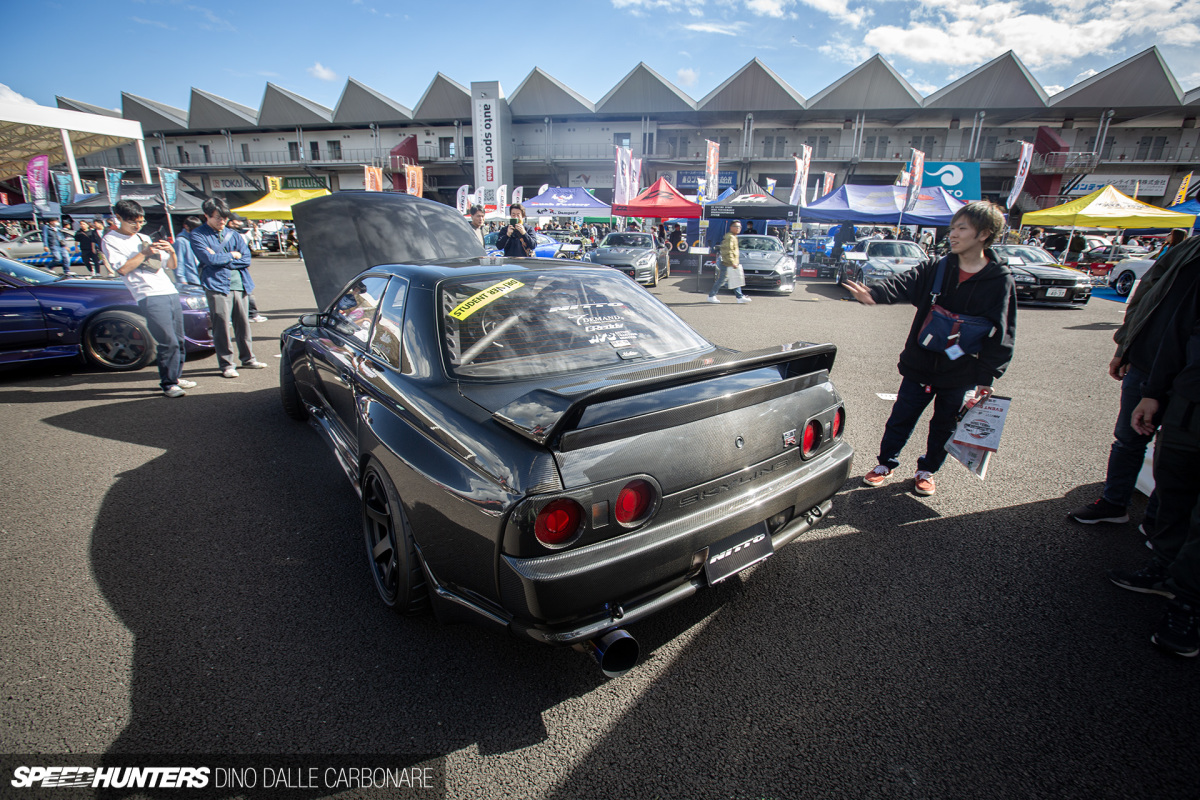 And specifically, Skylines like the Garage Active carbon wide-body BNR32. Yes, it's all kaaaabon faaaibaaahhh! The real crazy thing about this GT-R is the gigantic HKS new-generation single turbo strapped to the side of its fully-built RB28. Big power for a very special car.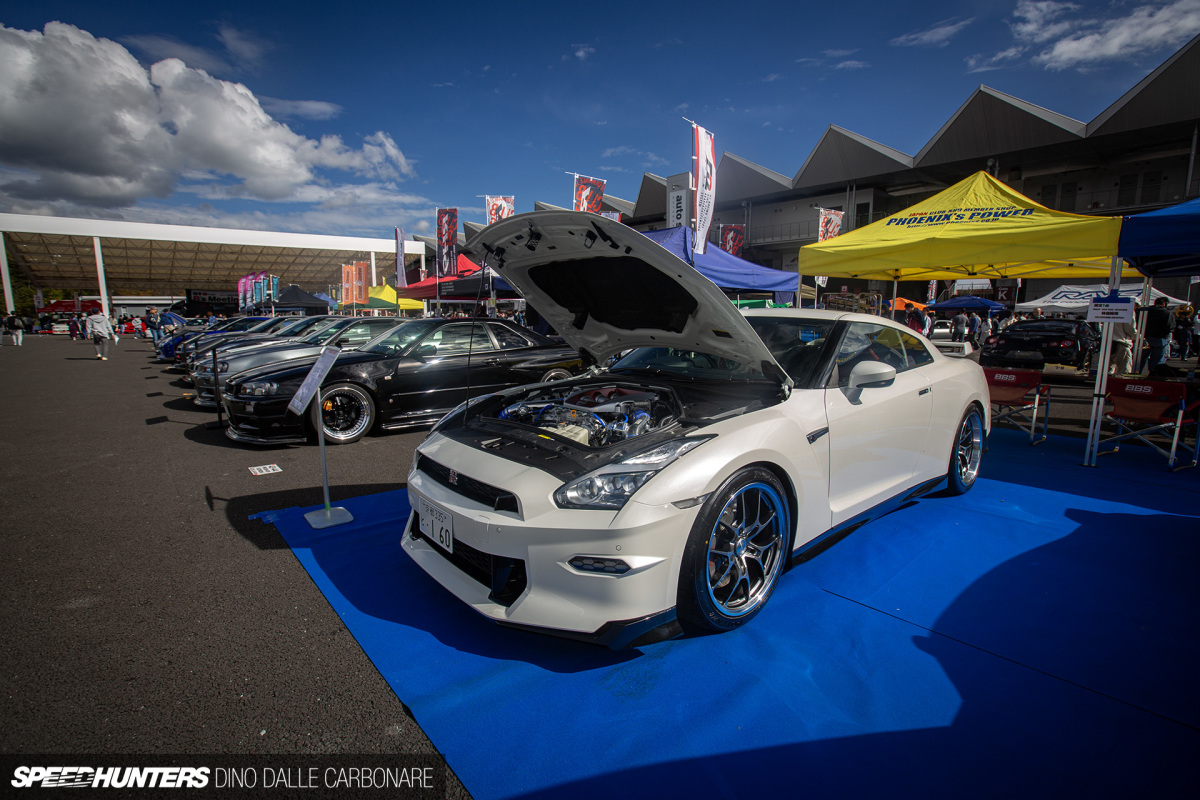 On the Phoenix's Power stand I spotted a modified 2023 GT-R, which is a real rarity. I don't know about you, but I'm still unsure of the redesigned front bumper/grille and the DRLs. Your thoughts?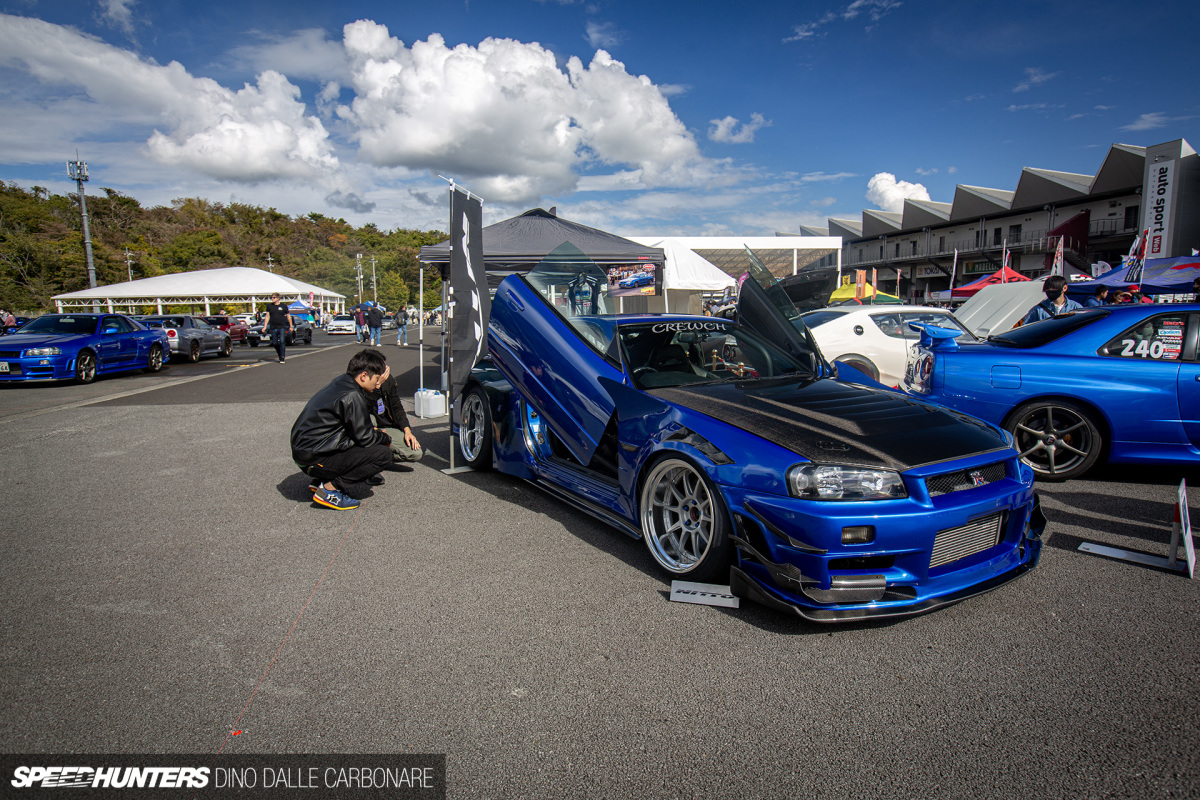 This Crewch BNR34 with vertical doors just gets crazier every year. When you thought nothing more could possibly be done to the car, the Crewch guys turn around and ask you to hold their beers.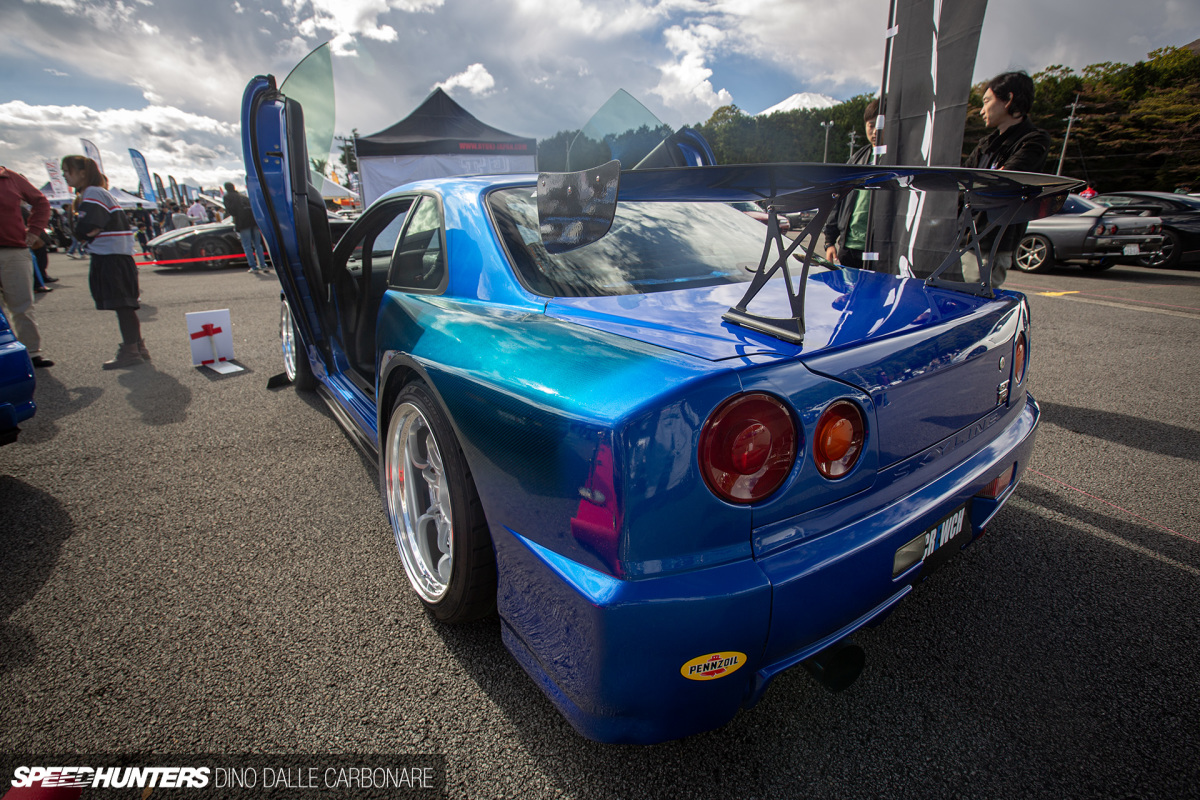 This time around it's JGTC GT500-style rear end widening. I don't mind this at all, but I'd love to see it matched to a JGTC front end conversion too. I'll let you guys ponder over this one.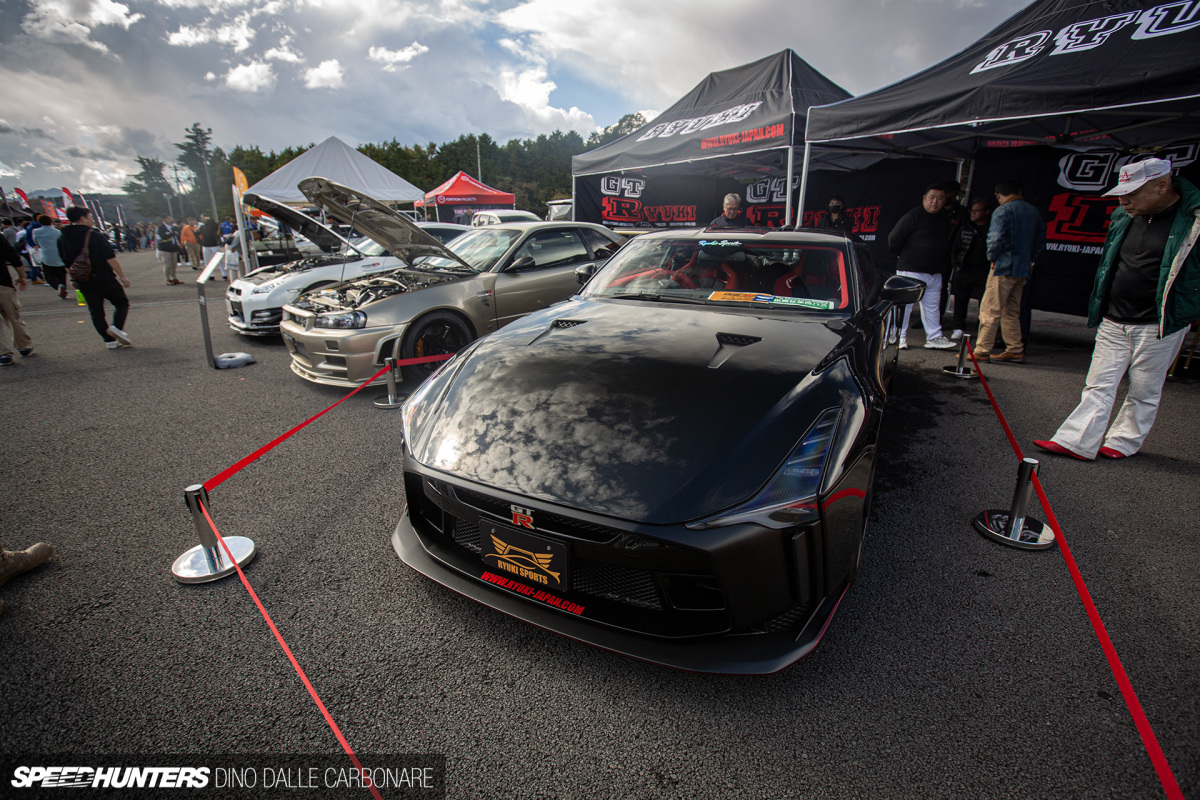 Ryuki Japan stunned everyone with this Italdesign GTR50 – one of 50 $1M conversions made to the 2020 Nismo R35 GT-R that completely transforms the car.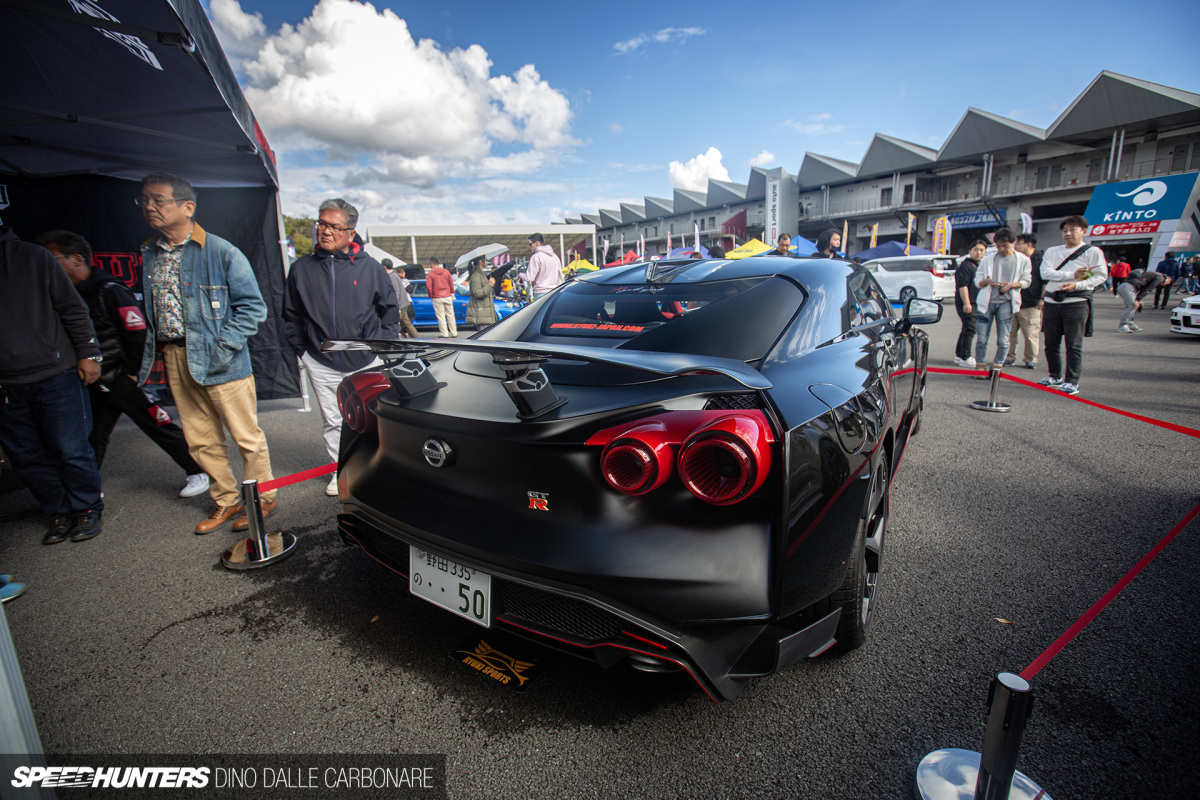 These things look wild from every angle, but the rear end has to be the most impactful.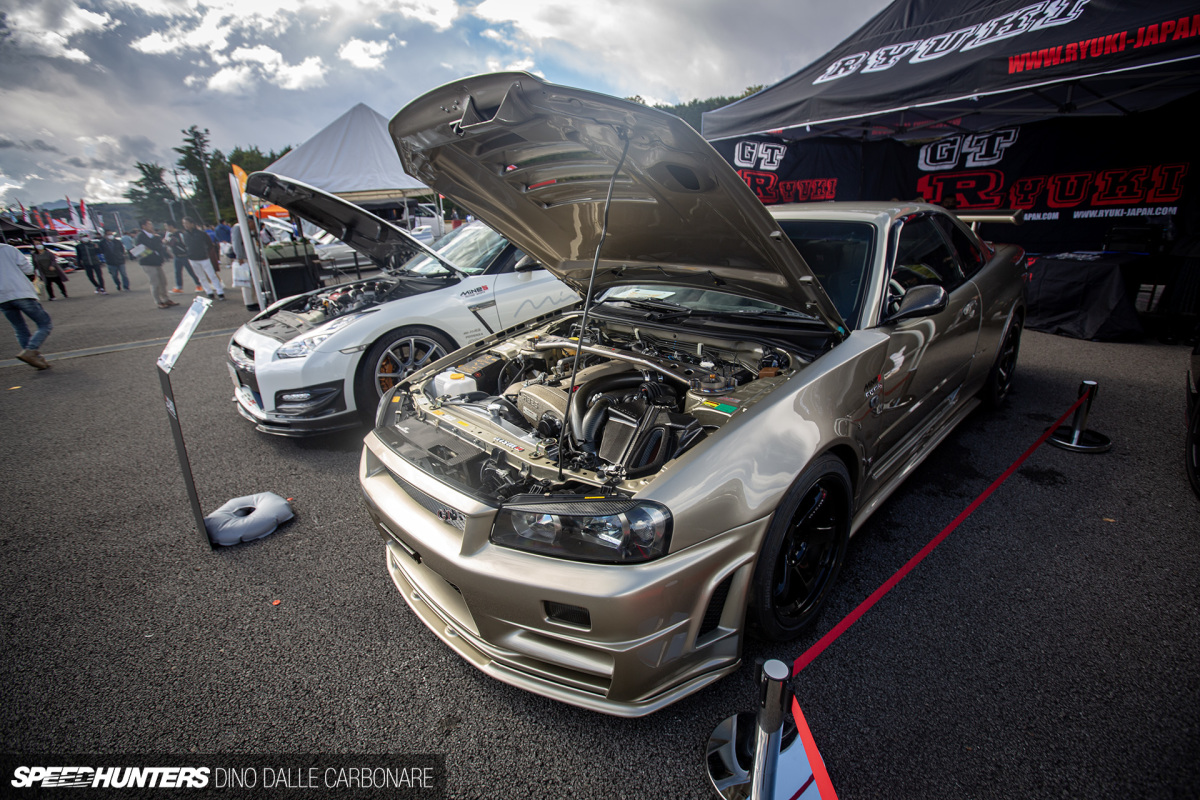 In the same booth was the first R34 GT-R I've personally ever seen running a Nismo R4 engine.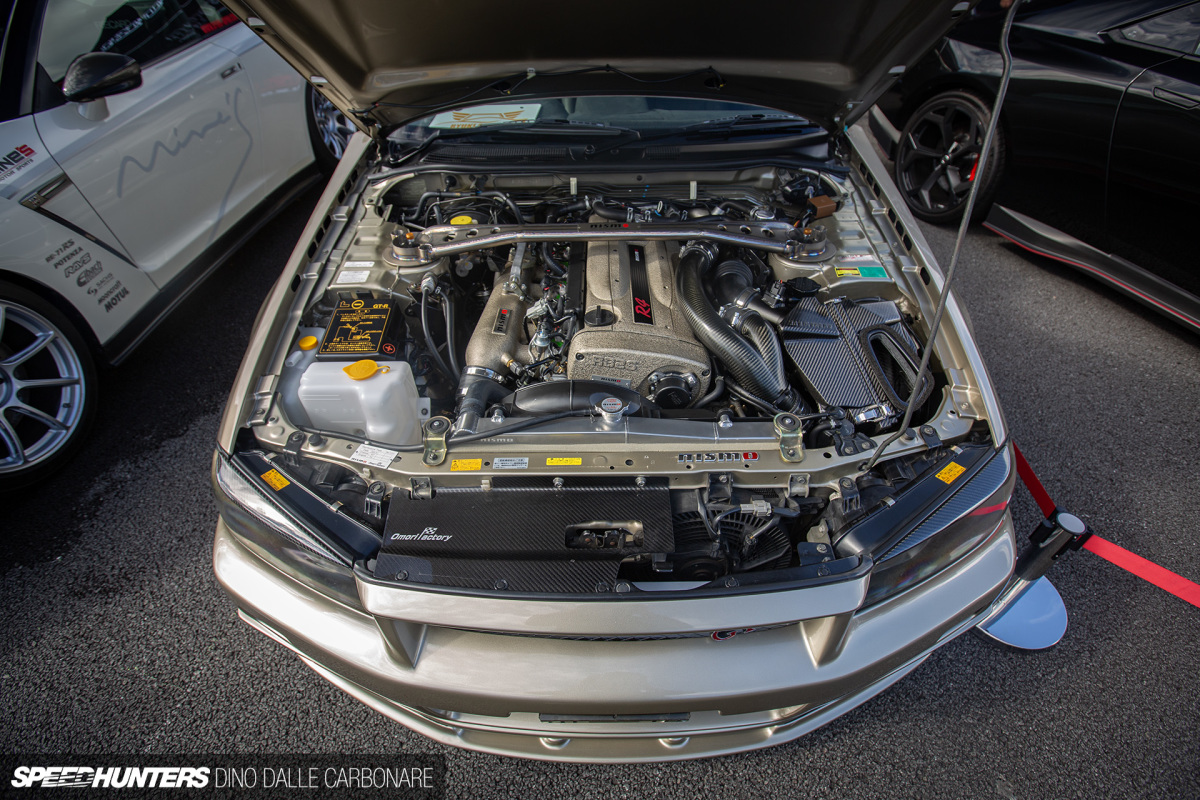 Talk about bragging rights. Given the lead times on these engines, the owner must have ordered it back in 2002!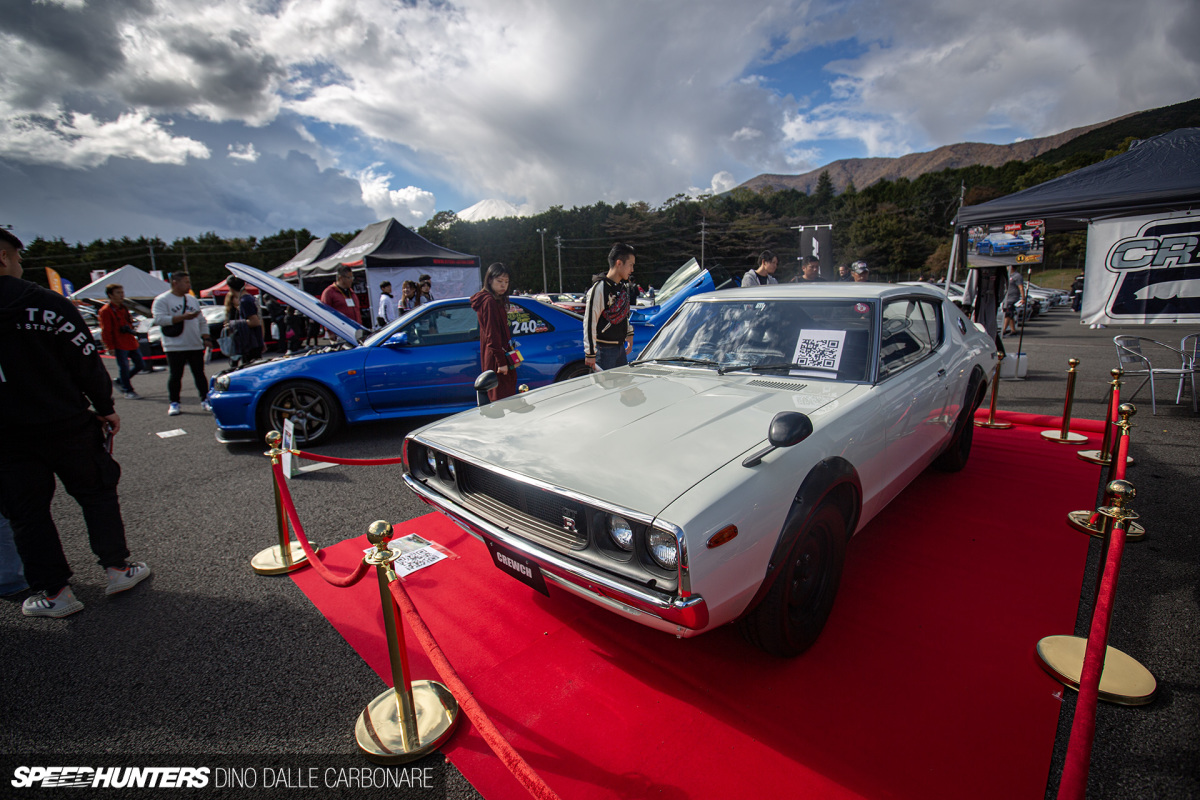 I had a moment of nostalgia while checking out this KPGC110 Kenmeri, but couldn't help but wonder what all the ooohhs and aaahhs I heard coming from the display next door were about.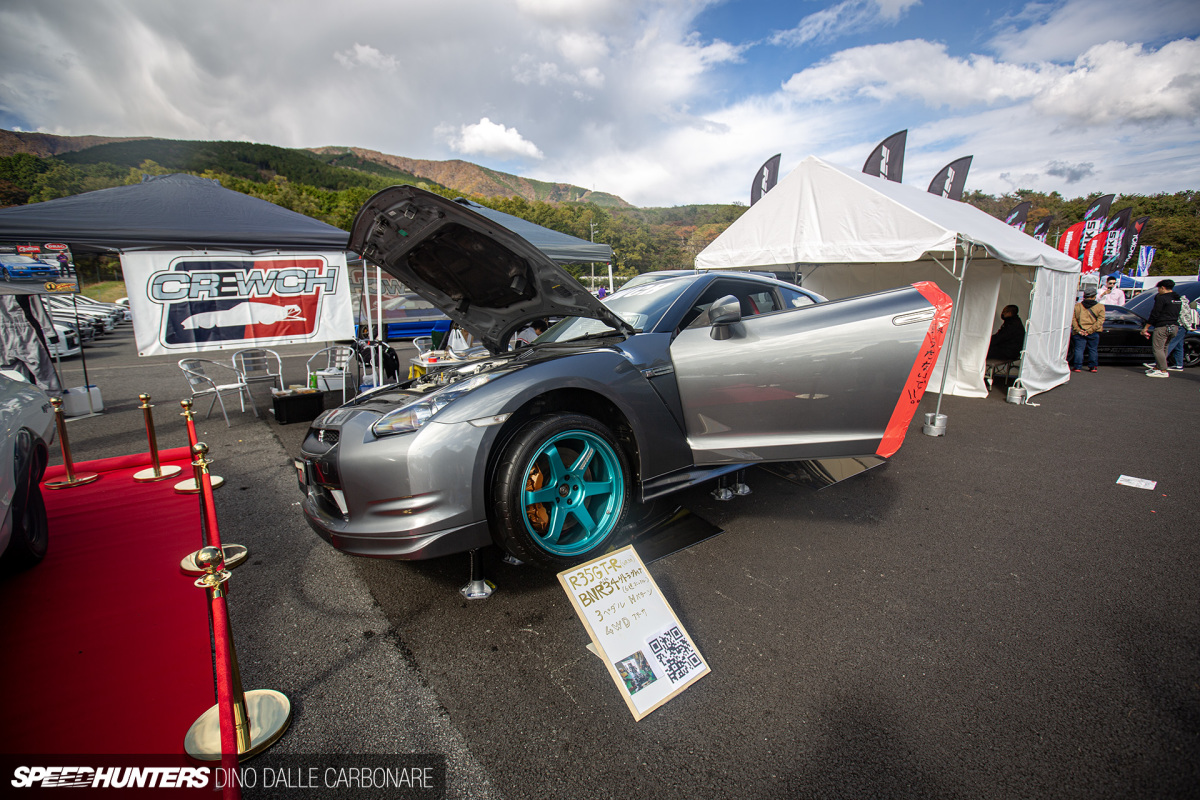 Glancing over, I quickly realized that Crewch had done another crazy thing, this time with the R35 GT-R. With this build, they've ditched the R35's GR6 transaxle transmission in favor of a Getrag 6-speed and rear end out of an R34 Skyline GT-R. Interesting, but I do wonder about two things: Firstly, won't the low-RPM torque of the VR38 de-tooth every single cog and synchro on the box? And secondly, what happens to the weight distribution? One thing's for sure – this would be fun to drift!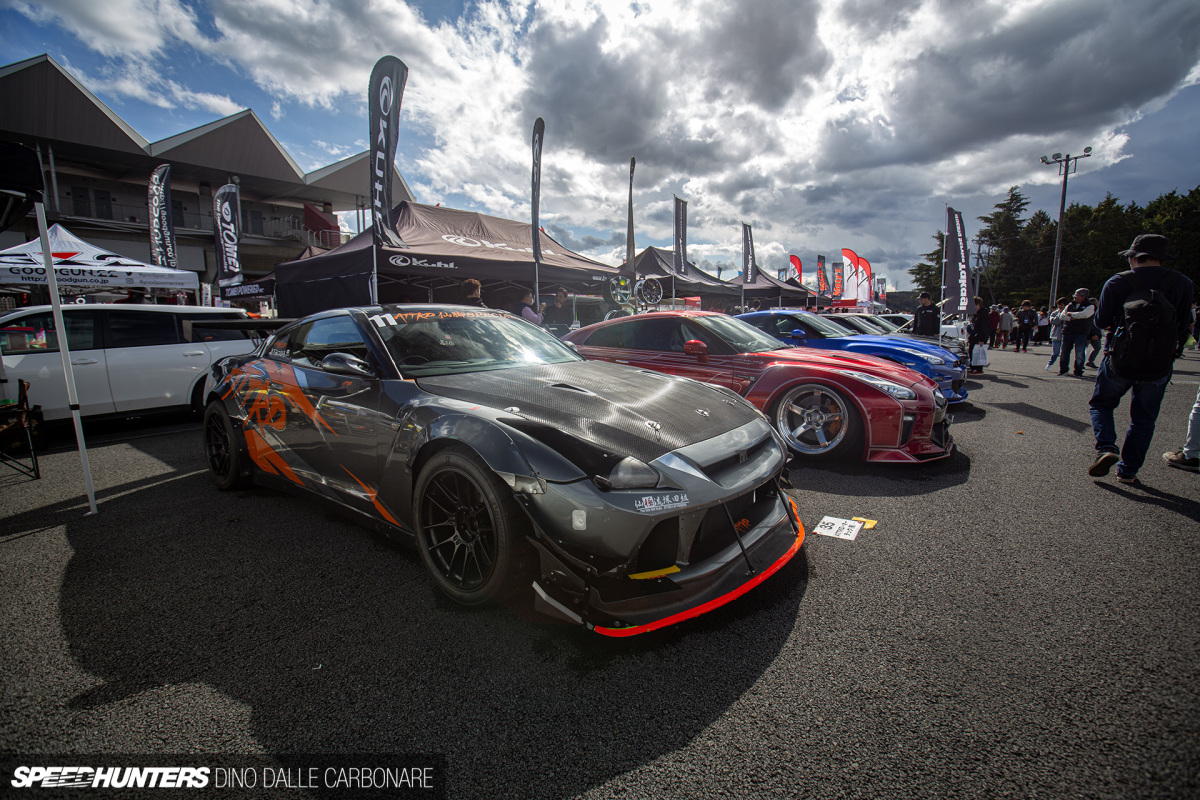 I've always been a big fan of Autech Tsukada so was happy to see them out at R's Meeting with a few cars.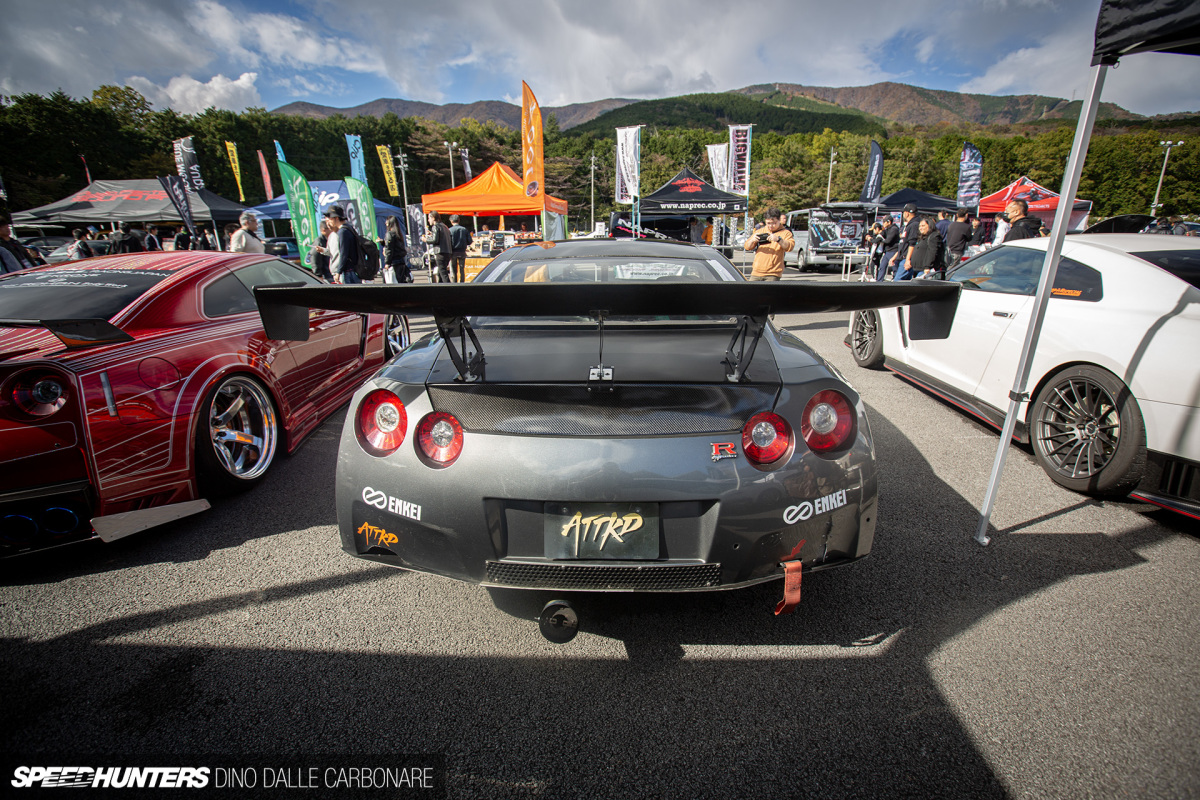 Their R35 track build reminded me that the Japanese time attack season is almost here. I can't wait!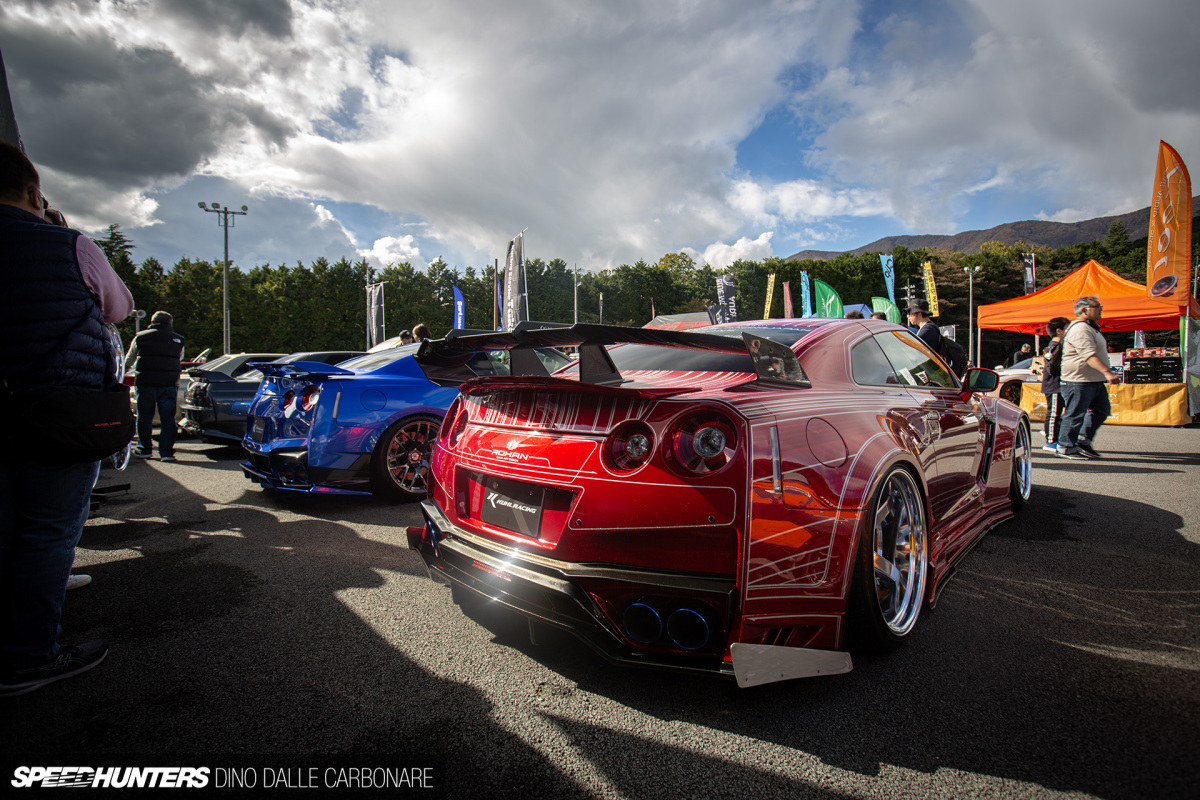 Kuhl always kills it with their show-style builds, highlighting just how versatile the R35 is.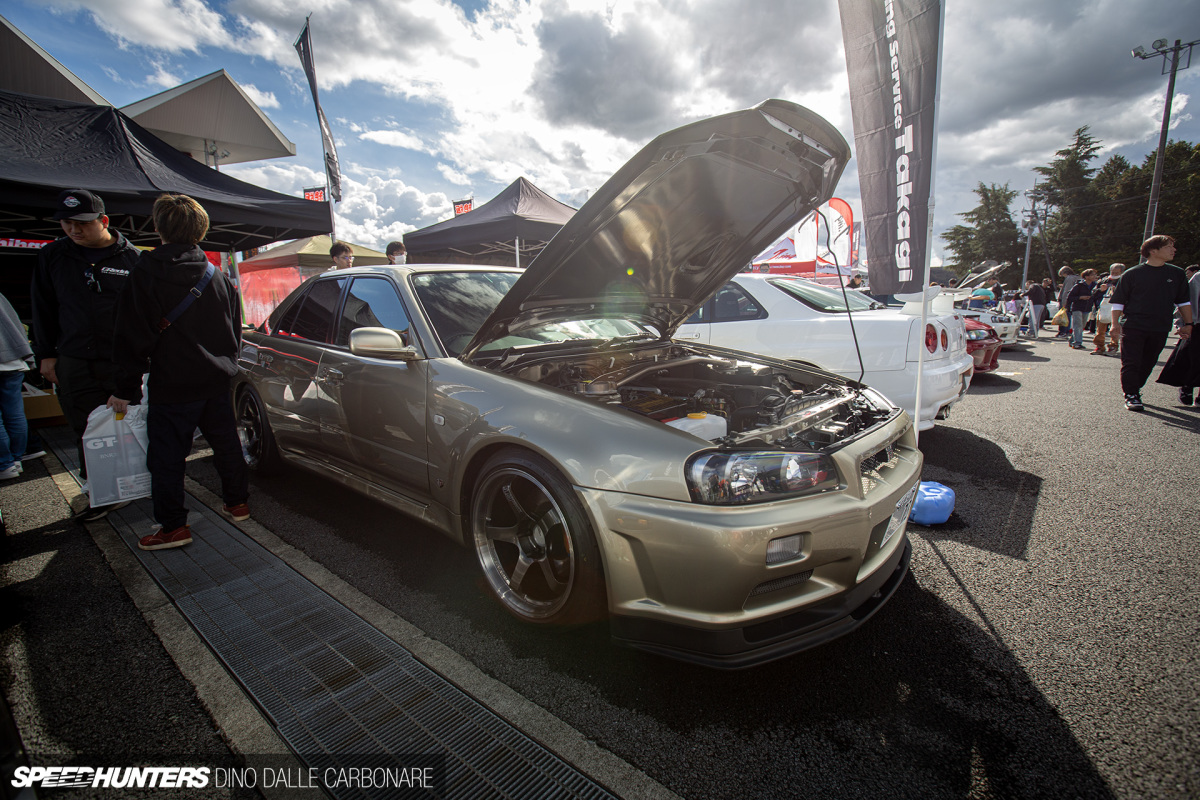 It may not be a GT-R even if it looks like one, but this ER34 four-door sedan from Race Service Takagi sports a very interesting engine conversion – an RB26DE Plasma from an Autech R32 sedan. Most of those cars have ended up being parted out, with their engines swapped into older Nissans like S30 Zs and C10/C110 Skylines (remember Rocky Auto?). With only 220PS – so just over 200hp – they're nothing crazy, but boy do they sound sweet.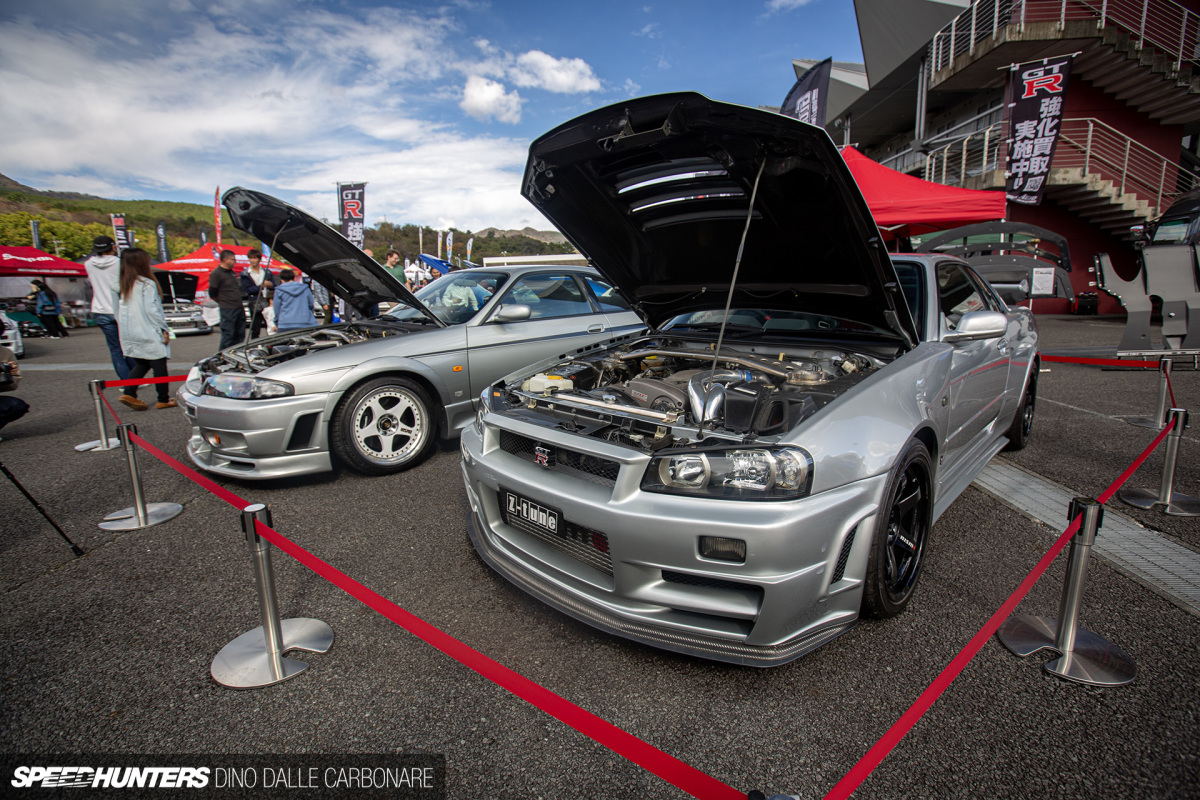 Global Auto always brings the heat to R's Meeting, and once again their 400R and Z-tune pairing were crowd favorites. What do you expect with a couple of Nismo unicorns…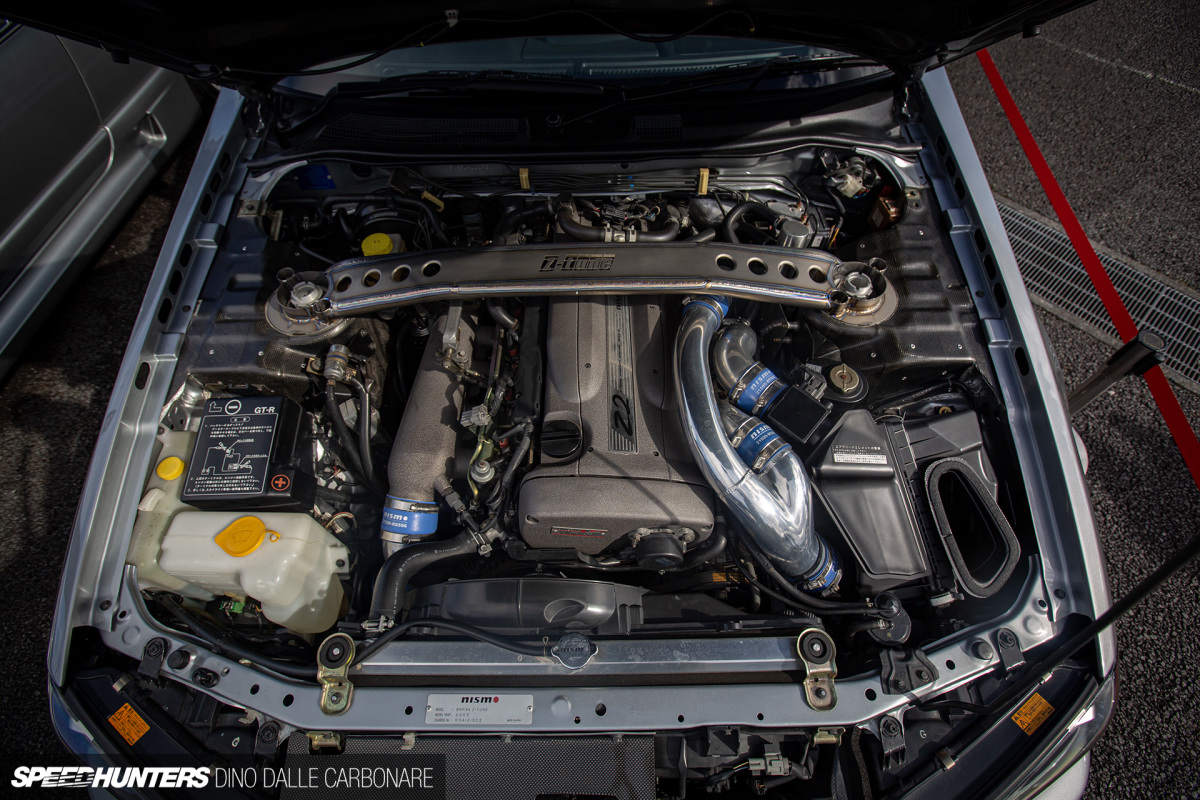 And unicorn engines to boot.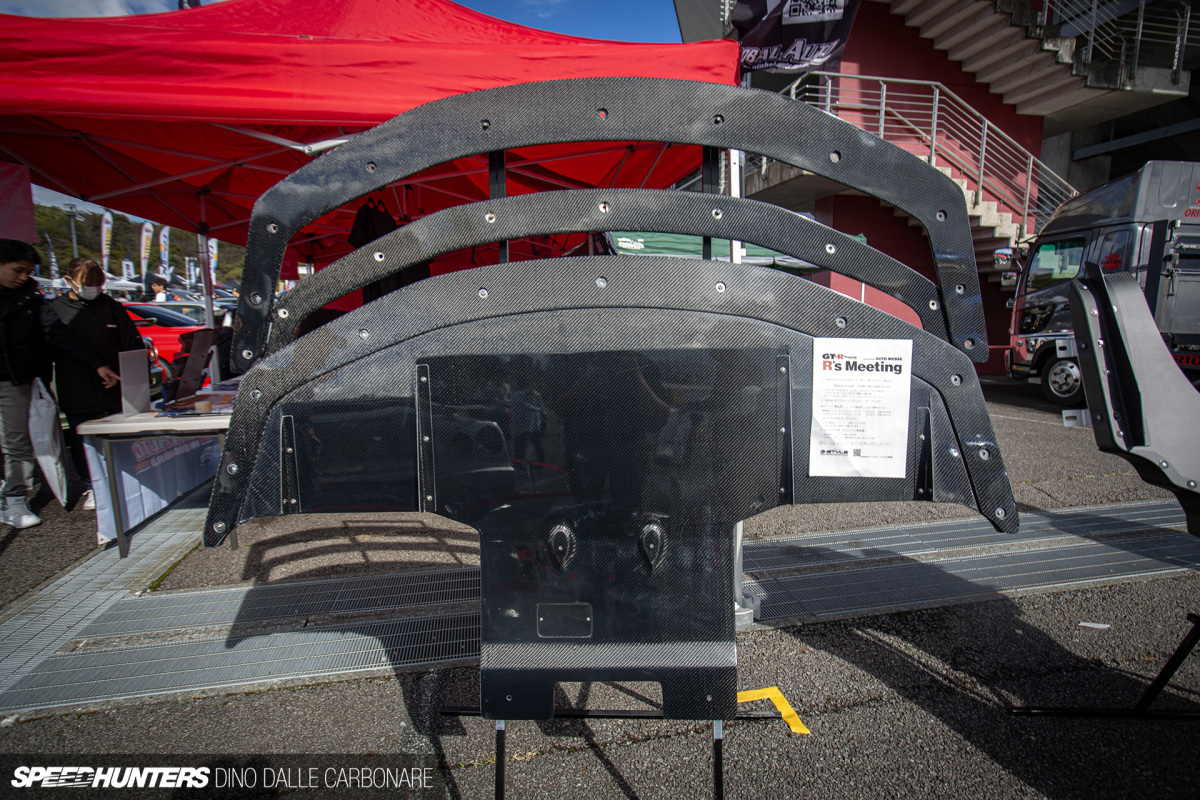 Global Auto doesn't just sell cars – they're now making BNR34 GT-R front diffusers – in FRP and carbon fiber – which have a removable lip section available in three different lengths. Since every single R34 in the world has trashed its OEM diffuser, I think this replacement part will do rather well.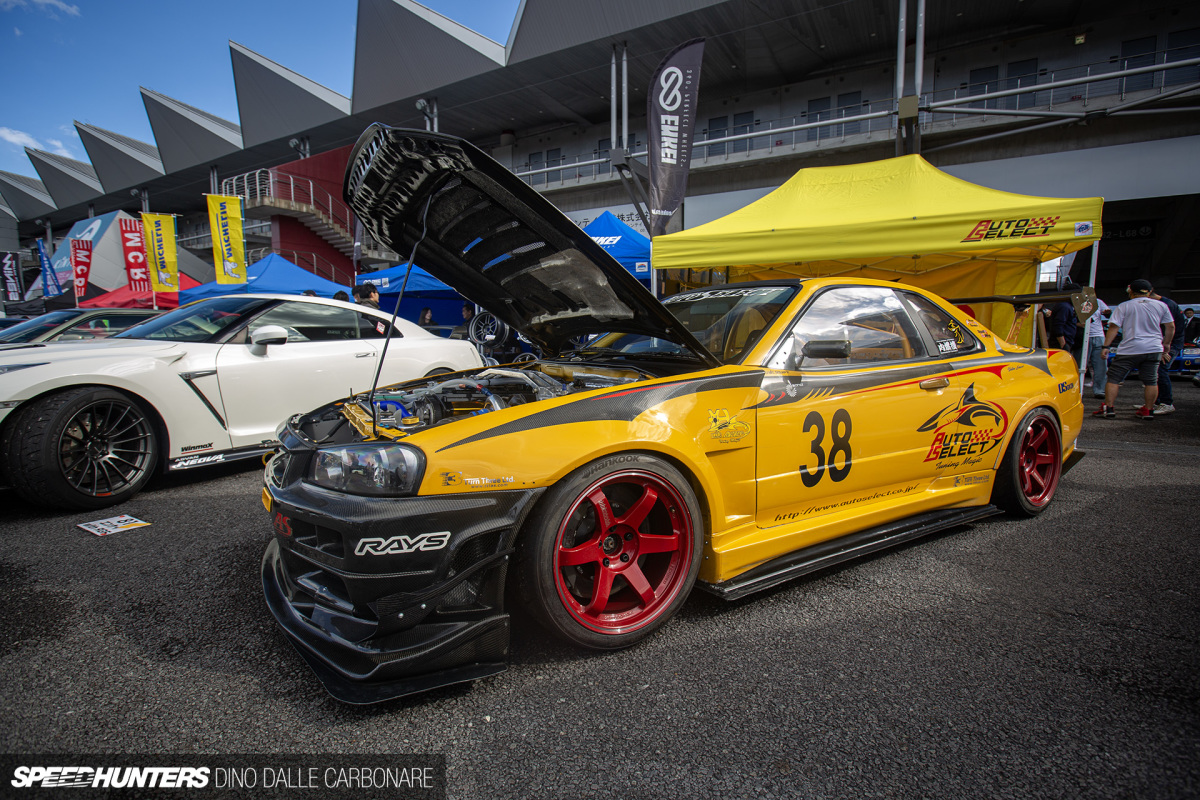 When it comes to R34 time attack legends, the Auto Select 'Yellow Shark' is among a handful of cars that I'd add to my dream JDM garage.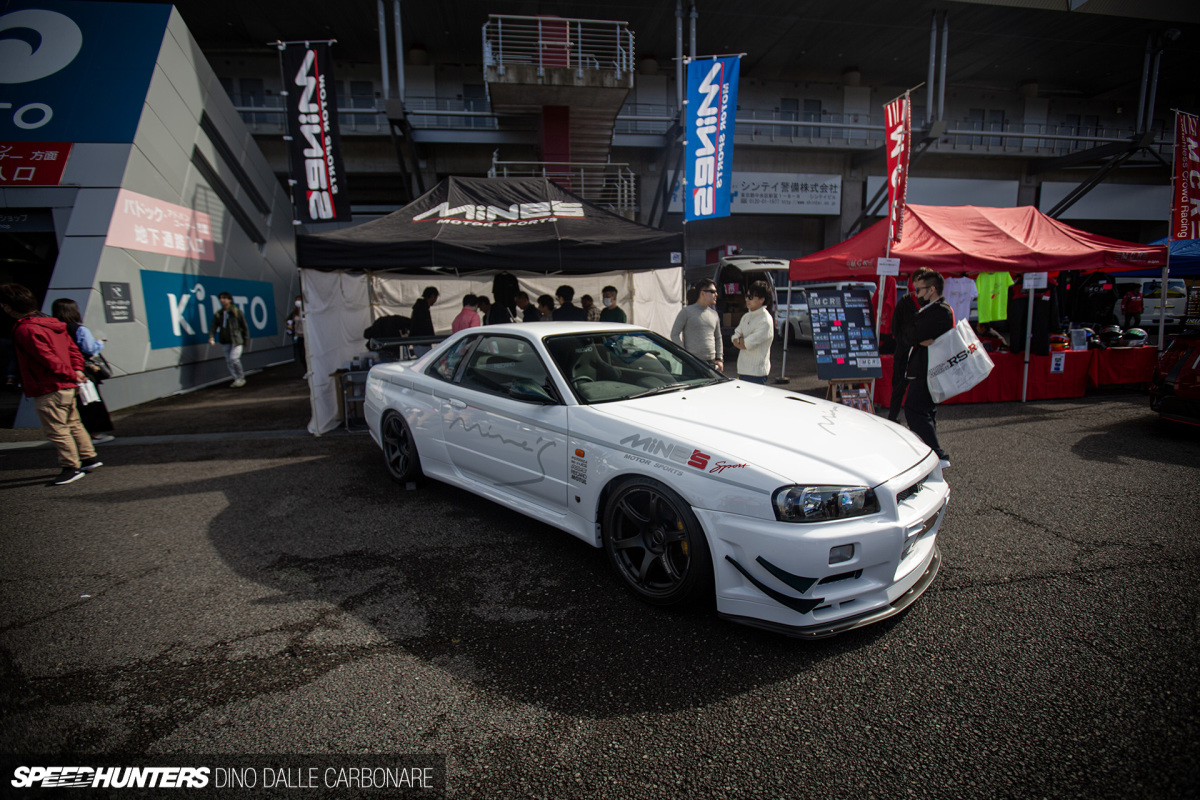 Along with the Mine's demo car, of course.
While the main paddock and tuner display does offer amazing cars to see, one can't possibly pass up the opportunity to indulge in a little private owner car-spotting.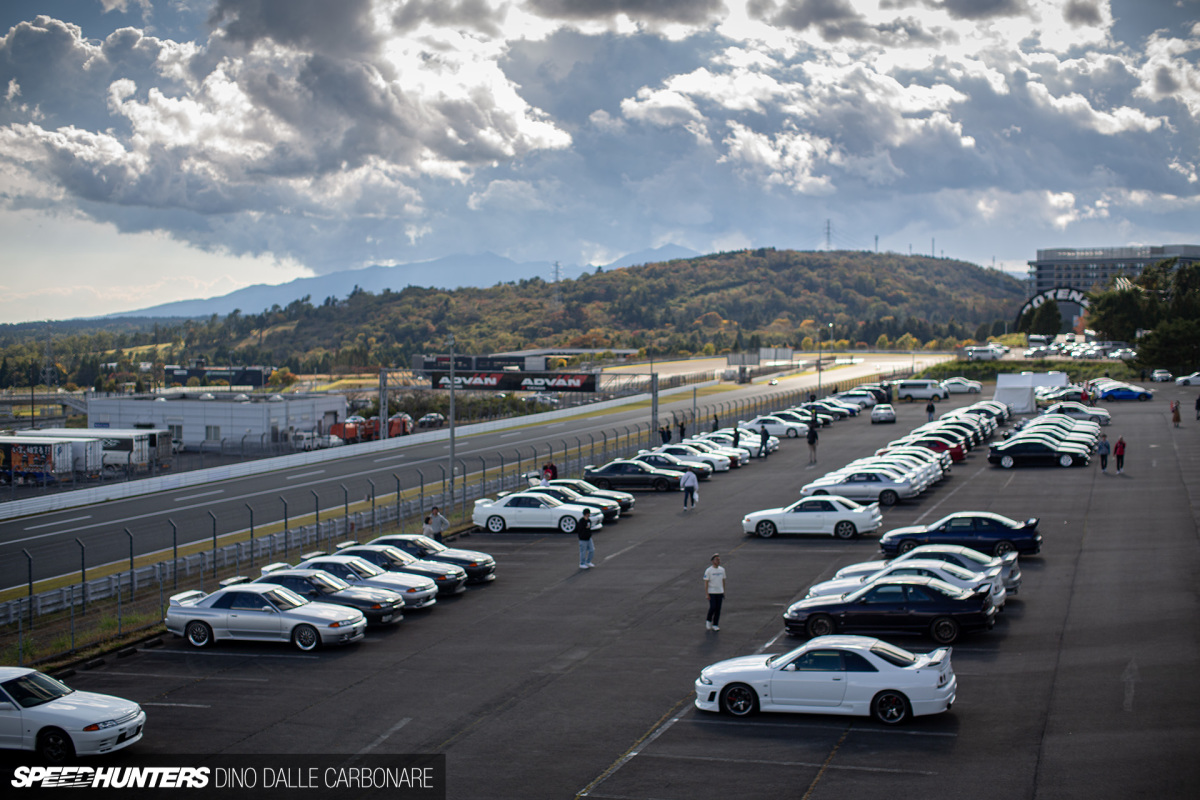 The Fuji Speedway car parks always offer amazing views with GT-Rs lined up by generation.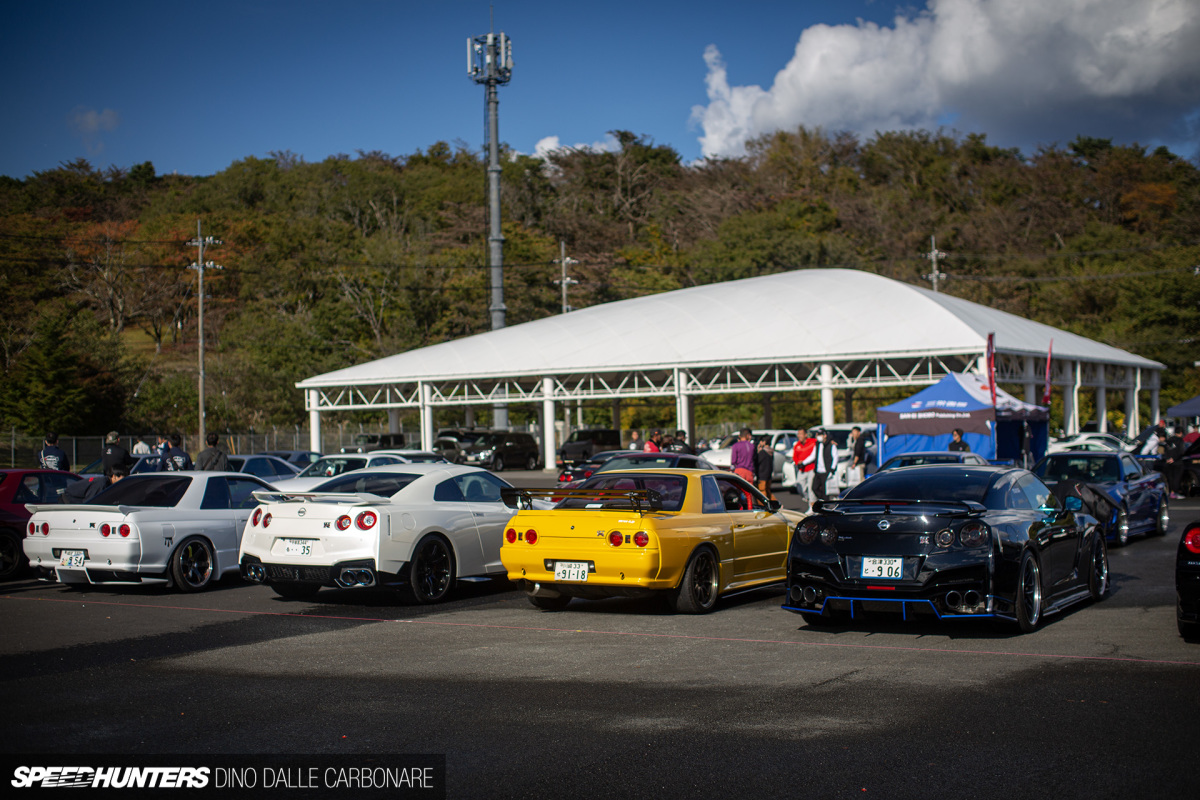 And the car park that GT-R Magazine uses as a spot to photograph reader cars is always filled to the brim with inspiring builds.
I even spotted a green R34. No wrap here, this one is actually painted.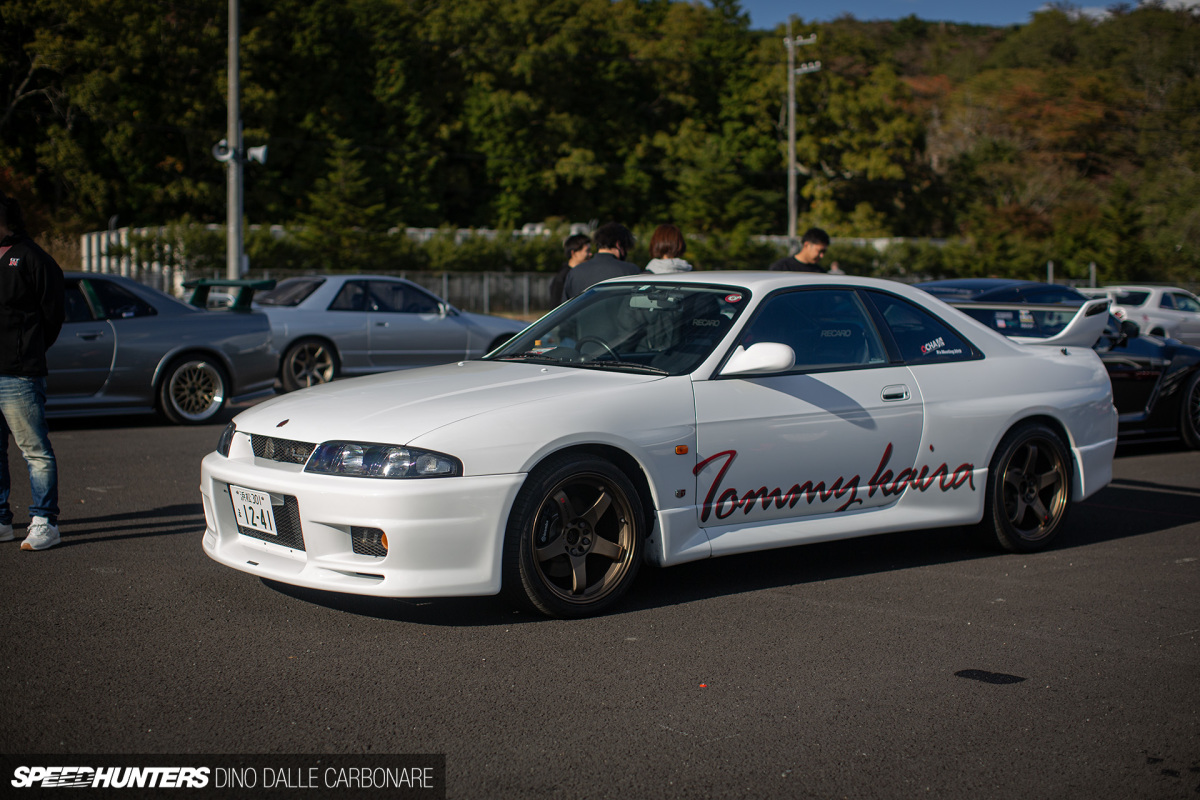 And yet another unicorn, thanks to Tommykaira.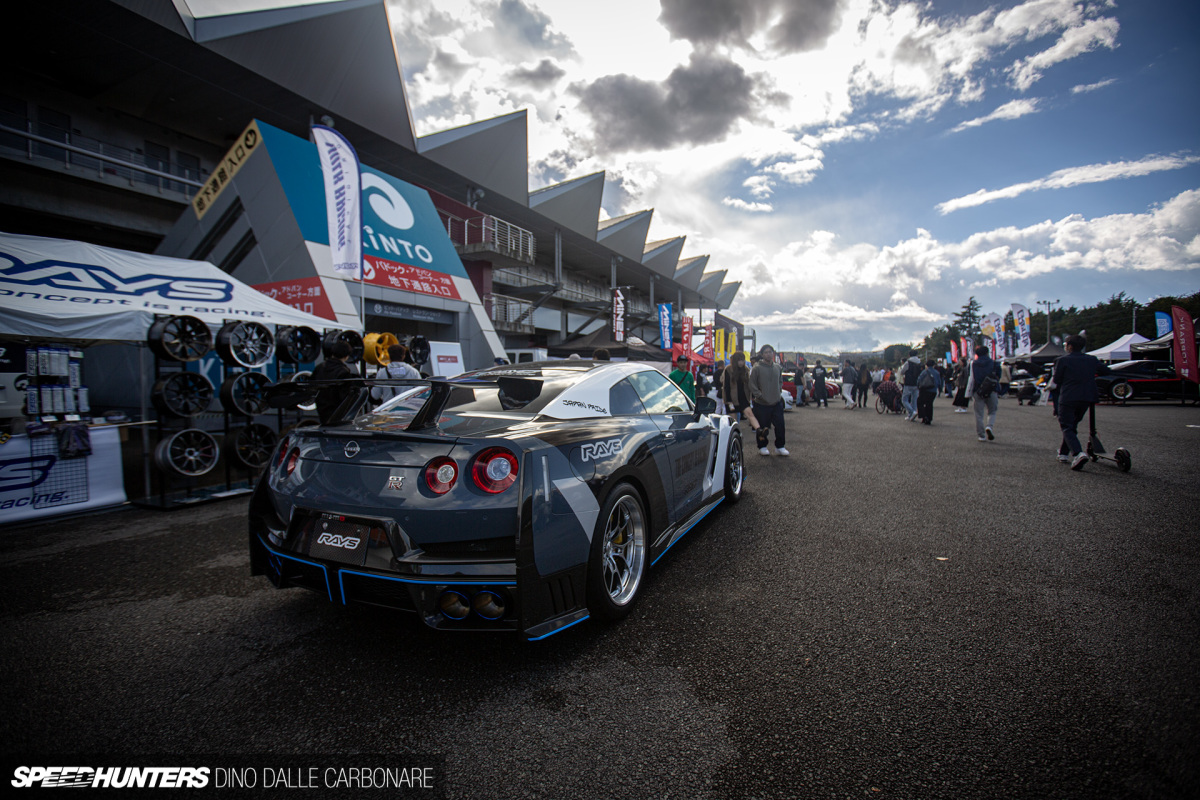 I hope you've enjoyed the GT-R overload from R's Meeting 2023. I have to say, I came away reinvigorated and excited to continue my restoration of Project GT-R. Let me know what your favorite car – or cars – from this year's event were in the comments section.
Dino Dalle Carbonare
Instagram: dino_dalle_carbonare
dino@speedhunters.com