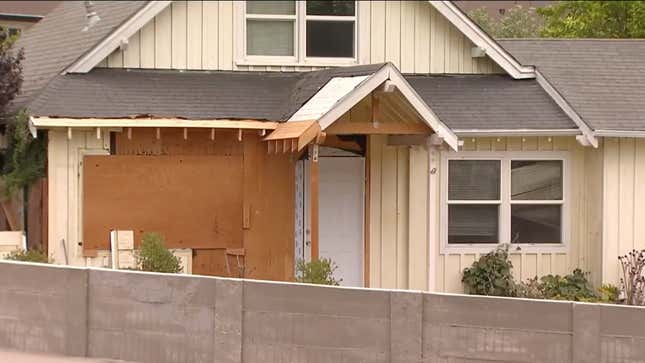 The owner of a Northern California home is finally getting some relief and safety. After having multiple vehicles crash into his house, NBC Bay Area reports a homeowner finally got the go-ahead to build a protective wall around his residence to keep it from happening again.
Frank Dodd owns a home he uses as rental property in Concord, California. Dodd is in a unique situation, as the home he owns seems like a magnet for cars that keep crashing into it. It's either driver negligence, the location of the home or both — Dodd didn't say — but it happens a lot. He said that the home has been hit over half a dozen times since he's owned it.
"Before, they said that if I built a wall and somebody crashed into it, I'd be liable, and they didn't want to do it because they didn't want to be liable," he said to NBC. The crash a couple of months back and a strongly worded letter from Dodd were the final straws. The city relented and allowed him to build a barrier.
Screenshot: NBC Bay Area
My Mini Is Getting A Bit Cramped For Me And My Dogs | What Car Should I Buy?
Dodd is still repairing the damage from the last crash, and he says that he's out thousands of dollars over repairs from the other crashes, but he's thankful he gets to add a layer of security to the home to protect its inhabitants.
The most recent crash happened at the beginning of July 2023. A drunk driver crashed into the home's living room, nearly hitting Dodd's tenant. Dodd has repeatedly approached the city of Concord about building a barrier around the house. But they constantly denied him over liability worries.