The track layout, too, is fascinating; as I drove the circuit, I started to wonder how Vegas as a city would truly function when so many main access points to hotels, casinos, and restaurants will be cut off by the Grand Prix track. I tried to imagine the race in my head, placing grandstands in the appropriate places, and I'm still not quite sure how they'll fit it all in.
But I think the thing that impressed me the most was the facility F1 is building just off the Strip.The 300,000 square-foot paddock building includes luxury suites and viewing platforms for the race weekend itself — but that building will remain in Vegas all year round. In the 11 other months, this building will have the opportunity to house a museum of vintage F1 cars and other motorsport-specific activations. I'm arguably more excited about that than I am the race itself; Vegas has a chance to become the motorsport hotspot of the United States with this building, offering a slice of race day to anyone who doesn't make it to the Grand Prix.
I'll be the first to admit that I've been skeptical about Formula 1's upcoming Las Vegas Grand Prix, but as the race itself approaches and after a high-energy 30-hour trip to Vegas to check out all things F1, I have to say: I've changed my mind. About some things, at least.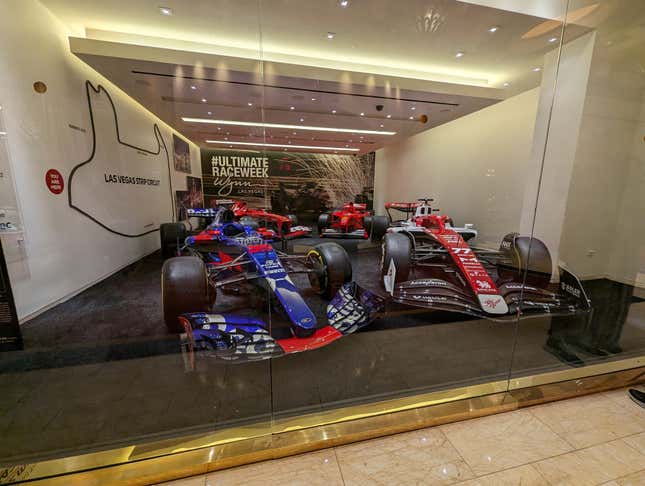 Even the Vegas thrift stores were full of motorsport-related goodies

Photo: Elizabeth Blackstock
But there is admittedly something incredibly cool about the energy of the city as it ramps up to the big race. F1 ads are everywhere, and the permanent F1 building being built by the series has the potential to create a permanent home for motorsport in America, one that exists well outside the confines of the weekend. There's an opportunity for F1 to transform the Las Vegas Grand Prix from a high-cost three-day event to something that lasts for all demographics of fans all year round, and I can't wait to see how Vegas plays its stacked hand.
I do want to note, though, that I'm still pretty skeptical about the current marketing plans in place. The LVGP is massively expensive, with slews of tickets caught up in multi-day hotel packages that cost more than my yearly salary. A lot of fans who otherwise would have come out to support F1 in America have been turned off by the exorbitant fees, and it's even proving difficult to find any accommodations during the race weekend, even if you're not attending the race.