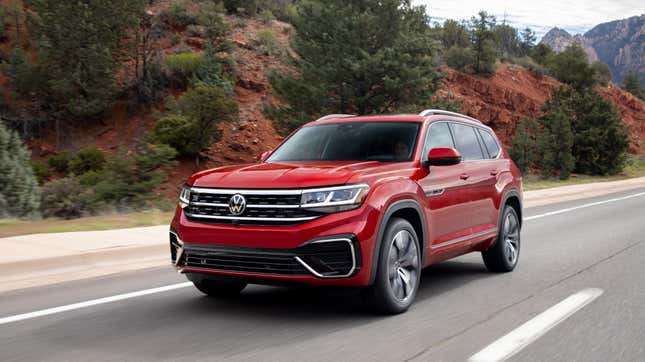 A family is suing VW after the company refused to help them locate their carjacked vehicle with their toddler son inside unless the parents or police paid a $150 subscription fee.
Here's A Cheap Way To Keep Track Of Your Bike
Everything started if February of this year when Taylor Shepherd, after pulling into her driveway in her 2021 VW Atlas, was carjacked by two masked men. Worse yet, her two-year-old son was in the backseat when it happened. She tried stopping them but they literally ran over her with the Atlas; breaking her pelvis and putting her six month pregnancy at risk. "They ran over the entire left side of my body. There were tire tracks all over the left side of my stomach," Shepherd told Fox32.
Shepherd called 911 thinking that she would be able to get GPS info through VW's vehicle control and tracking Car-Net app. The app turned out to be useless though unless you paid, which is a wild thing to ask in an emergency like this. However that's exactly what VW did when Lake County Sheriff's contacted the company for the GPS Data. From our own Andy Kalmowitz:
A representative from Car-Net reportedly wouldn't give access to the service until someone paid the $150 fee to restart the service and locate the Atlas. This happened despite the fact a detective reportedly pleaded and explained the "extremely exigent circumstances." The representative apparently cited company policy as the reason.

"The detective had to work out getting a credit card number, and then call the representative back to pay the $150, and at the time the representative provided the GPS location of the vehicle," Christopher Covelli, the sheriff's office Deputy Chief, told the Sun Times.
Ultimately though it was a waste of time. The whole ordeal of trying to get a payment took so long, the sheriffs had already located Shepherd's son wandering alone in a parking lot and the Atlas a few miles away. Now Shepherd and her family are suing VW saying they can't let something like that happen to anyone else.
The family's attorney, Gerald Bekkeman, called VW's refusal to give the data shocking. "It shocks the conscience to hear that somebody could refuse to turn over information on a kidnapped child for a $150 subscription renewal."
We've reached out to VW for comment on the case and will update this when they get back to me.