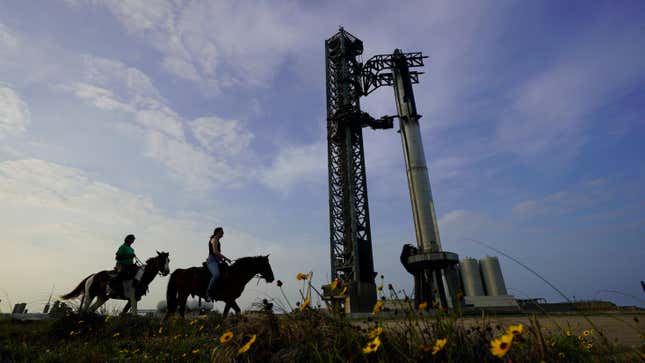 SpaceX's Starship rocket may sound great in theory, especially if you believe Elon Musk is going to get humanity to Mars one day (if he's not still too busy blaming the Jews for the drop in Twitter's ad revenue) but the last launch didn't exactly go well. In addition to blowing up, it also caused an incredible amount of environmental damage, leaving behind a 385-acre debris field and causing a 3.5-acre fire. Understandably, the Federal Aviation Administration would really prefer it if SpaceX didn't do that again.
According to Bob: Public Transit Is a Car Enthusiast's Best Friend
The FAA announced last Friday that it had closed its investigation and had identified "63 corrective actions SpaceX must take to prevent mishap reoccurrence," CNET reports. Those include "redesigns of vehicle hardware to prevent leaks and fires, redesign of the launch pad to increase its robustness, incorporation of additional reviews in the design process, additional analysis and testing of safety critical systems and components including the Autonomous Flight Safety System, and the application of additional change control practices."
Once all of that has been taken care of, SpaceX will reportedly have to apply for a modified license and be cleared by the agency to launch the Starship rocket. But while 63 corrective actions may sound like a list that would take a long time to complete, SpaceX is probably a lot closer to being ready to launch than you might think. On Sunday, Musk tweeted that 57 of the 63 items had already been completed.
SpaceX has also released a statement, saying:
Testing development flight hardware in a flight environment is what enables our teams to quickly learn and execute design changes and hardware upgrades to improve the probability of success in the future. We learned a tremendous amount about the vehicle and ground systems during Starship's first flight test. Recursive improvement is essential as we work to build a fully reusable launch system capable of carrying satellites, payloads, crew, and cargo to a variety of orbits and Earth, lunar, or Martian landing sites.